First Squirrel Hunt Outing Report
First Squirrel Hunt Outing Report
This past Saturday I went on my very first hunt.  It was a squirrel hunt in the Black Creek Wilderness area in Mississippi.  To prepare for the hunt, I had spent some time on Google Earth looking at historical satellite images of the area in to see if I could identify patches of hardwoods.  I found what I thought were a few patches of hardwoods, and made a plan to head to one of them prior to sun-up.
Gear
My gear list for the hunt was a bit longer than I think it needed to be, but that was partly due to the fact that I was taking my 4 year old daughter with me.  
Here is the gear list that I used…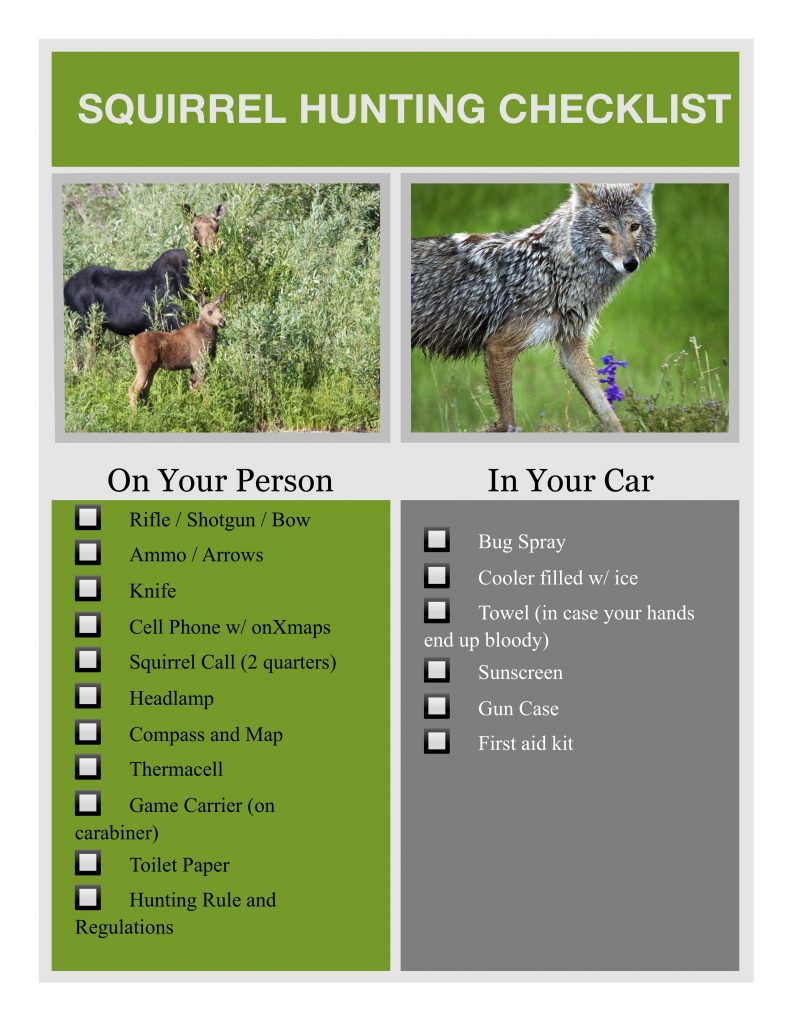 I was using my father-in-law's old .22LR with a 3-8x scope attached.  I was also using Federal Premium Hunter Match .22 LR 40-Grain Rimfire Rifle Ammunition.
The Squirrel Hunt
Into the Woods
From the very beginning of the hunt, I realized that it was not going to go as I had originally planned.  For starters, we left the house about 30 minutes later than I had planned. Add in the fact that I had to refill my car's gas tank on the drive out and we got to the parking area with only 45 minutes to spare before sun-up.
I thought this would have been fine.  We were only walking about 500 yards into the woods, so 45 minutes should be more than enough time!  I was incredibly wrong. I'm sure the fact that I had my daughter with me and the fact that it was still dark out caused some delays.  But realistically, I just wasn't prepared (in planning the time) for how thick the forest would be. The entire time walking through the woods was spend weaving between small trees and underbrush.  It was very different than I was used to having previously hiked through the woods in Colorado.
I must say, the walk through the woods in the dark would have been incredibly difficult if I hadn't purchased a good headlamp.  My old headlamp was a 300 lumen headlamp that just doesn't cut it. I specifically purchased a new 6,000 lumen headlamp for hunting, and it was amazing.  
Along the way to the hardwoods, it was disappointing to see many empty cans and bottles throughout the woods.  If this were a scouting trip instead of a hunt, I would have brought along a few trash bags. We also saw a few large metal trash cans strewn about in the woods.  I would have hoped that people would take better care of the woods, but apparently not.
To Shoot or Not To Shoot
Anyway, back to the hunt.  Eventually, we got to an area that had some large oak trees.  We didn't make it anywhere near as deep as I was planning.  We sat on a downed tree, and waited for some potential squirrel activity. I had shown my daughter how to use 2 quarters as a squirrel call, and I let her practice a bit while we waited.  I understand that quieter is better when waiting for game, but I had to choose between the noise of the quarters or the noises of a bored child.
After about 2 hours and a few new spots, we got bored of not seeing a single squirrel and decided to head back to the car.  My daughter wanted to walk along the creek (or as close as we could without falling down the steep walls), so we paralleled the water's edge back to the car.  After not seeing a single squirrel for a few hours deeper in the woods, I was shocked to see one within about 30 yards of us when we were probably 300 yards from the car.
The squirrel was feeding on a horizontal branch of a tree, and didn't seem to be phased by our presence.  I raised my rifle and put the squirrel in the crosshairs of the scope. I so badly wanted to pull the trigger and harvest my first game, but the only thing behind the squirrel was open sky.  Better judgement won out, and I decided to try to get a better angle so that there would be a backstop behind the squirrel.
I told my daughter to stay where she was, and that I would be right back.  As quietly as possible, I started walking around the tree. I was able to get into a better position, and again raised the rifle.  As I was raising the rifle, I hear sticks snapping and then I feel a tug on my shirt. My daughter decided she didn't want to wait for me.  The squirrel ran off, and we tried to find it again for about 20 minutes. But, no luck.
All told, we spend about 4 hours in the woods on the squirrel hunt and saw a single squirrel.  I never got to take a shot at the squirrel, but that's ok. Looking back, I am glad that I decided to pass up the shot in order to stay safe and not risk an errant shot flying somewhere in the distance and potentially hitting somebody.  Regardless, we both had a great time and are looking forward to the next hunt.
The Good
It was incredibly fun to be out in the woods again.  After the long summer where it was too hot to get any woods time, just being out in nature was good.
It was also fun to have my daughter with me.  Having her with me probably reduced the likelihood of me seeing squirrels, but that isn't a problem.
I realized I still have A LOT to learn.  This is good because it gives me more motivation to continue hunting.
The Bad
My binoculars are 10x.  That is way too much magnification for the woods that I was in, and the amount of leaves that were still on the trees.
I was unable to harvest any squirrels.
Its surprisingly difficult to walk through thick brush with a rifle on your back.
I realized I still have A LOT to learn.